Home
Home > Cooling Systems > Waycool Evaporative Cooling
Waycool Evaporative Cooling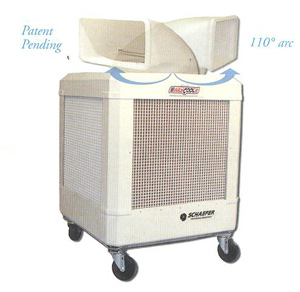 Excellent for larger areas where a heavier duty, more permanent installation is in order.
Great for garden centres, hotels & resorts, movie production sites, sports teams, factories, outdoor patios at restaurants, golf tournaments, rental and farm buildings.
Unique design dramatically outperforms all other portable evaporative coolers. Oscillating Spout Option swings spout in a 110 degree arc to cool an even larger area.


1/3 HP model blows air up to 65', 1 HP model blows up to 100' away.
On a typically hot day, the air leaving a WayCool is 20 degrees F cooler.
High efficiency evaporative cooling pads on all four sides for maximum efficiency in the smallest possible space.
Two-speed centrifugal blower is quiet.
High impact UV resistant ABS plastic shell with aluminum interior frame.
Six position recessed switch for high or low air-speed, with or without evaporation.
Heavy duty castors for easy movement.
Low operating costs --less than 50 cents per day.
Low maintenance --simply rinse with water.
May be filled with water manually or simply hook up a garden hose for continuous, unattended operation.
360 degree air spout gives maximum versatility for spot cooling.
115 volt operation.
1/3 HP WayCool: 14 gallon water capacity.
1 HP WayCool: 24 gallon water capacity.